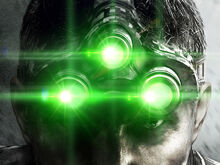 Rasagiel
Edit
I have been a splinter cell fan ever since I was watching my cousin play the first ones. I got addicted and played them on my own once he got more mature. Years later I managed to procure my own copies of the first three for the Xbox. I like to play for hours, trying to find the most flawless and easy ways to surpass the levels and listen to the plot mostly. I did one 24 Hour Live Stream with some guys doing multi-player streaming and allowed me to go first on solo streaming whilst I played the first levels of Splinter Cell: Conviction. My father also has book from Tom Clancy and I love reading them.
Favourite games
Edit
I like all of them honestly. I am starting playing Double Agent, the best version yet however I want to see the other version as well, mainly to compare and contrast them. In addition, I am not much of a PlayStation fan so I neither had played Essentials and the 3DS one. I like Chaos theory where you have not only the main mission but some side missions to complete as well. Conviction was an amazing evolution where killing was taken to a new level, even better when Blacklist appeared and you control the flow of the killing or knock-out.
Inspirations from Splinter Cell
Edit
As a fan for Splinter Cell, I used inspirations for some other stuff. In Minecraft, I fashioned a skin using the inner layer for Sam Fisher in Conviction with green fleece and khakis, while the exterior is the standard Third Echelons Ops Outfit used in the Splinter Cell games. I also play in IMVU with an avatar and own two outfits that were based from Splinter Cell. A classic outfit from the first Splinter Cell and the E3 Eclipse outfit from Conviction. In addition, I do some role-playing in the chat rooms with a character that is inspired by Splinter Cell, but using original ideas.
My favorite pages
Edit
Add links to your favorite pages on the wiki here!
Community content is available under
CC-BY-SA
unless otherwise noted.