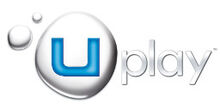 Uplay is a digital service from Ubisoft which allows players to allocate points in certain Ubisoft games by completing certain challenges or conditions (such as completing the single player). Once the player has obtained a Uplay achievement, a small indicator at the bottom of the screen with the Uplay symbol will appear, indicating that the player has received points. If the player wishes to use Uplay points, they can go to the main menu of the current game and (while connected to the internet) purchase specific game-related content using Uplay points.
Overview
Edit
Ubisoft started up a new program called Uplay prior to Conviction's release. With Uplay, users who have an active account can gain points for completing certain actions throughout the games they play will build up credits. These credits are earned in the same fashion as Microsoft's Xbox 360 achievements or Sony's PlayStation 3 trophies. After building up the credits, users can then spend them on things that they wish to use. Users are able to unlock four different items for both the Xbox 360 and PC (not having an account when players start the game will not mean they cannot earn these rewards). As soon as users start up the account Uplay will find out what goals they have accomplished already and add the credits to their account, they can then purchase whatever reward they'd like in whichever order. While each reward costs a different amount of points, users are capable of getting each of the rewards by earning points (up to 100 points in goals, 100 points worth of rewards).
Uplay Splinter Cell rewards Edit
SCAR-H

"Built for rough conditions, the SCAR-H deals far range damage while keeping accurate."
VR ZVEZDA

"Voron's SV7 Rapid Response Assault Suit. Used byVoronfield operatives for assault operations."
Infiltration Mode

"Eliminate all hostiles without being detected."
SCC Theme

"Download the exclusive Uplay theme for Tom Clancy's Splinter Cell Conviction." (Xbox 360)
"Download the exclusive Uplay Wallpaper for Tom Clancy's Splinter Cell Conviction." (PC)
External links
Edit
Community content is available under
CC-BY-SA
unless otherwise noted.