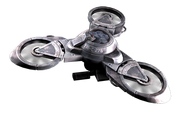 The Tri-Rotor is a remote-control drone used for recon and covert operations intelligence gathering. Despite being designed to reduce noise for stealth, the rotors can still be heard at a certain proximity. The Tri-Rotor is controlled by the OPSAT.
The Tri-Rotor is featured in Tom Clancy's Splinter Cell: Blacklist was designed by Charlie Cole.
Function
It can be used by the player to do multiple tasks such as:
Stalk enemies from a distance (when upgraded, you can use Sonar vision to detect them) and the Tri-Rotor can be used as recon tool while the path is not accessable by player.
Knock out multiple enemies, the upgraded Tri-Rotor has 4 shocker arrow equipped, once the Rotor is close enough, Sam can use the explosive to kill enemies. 
Disable electronics from a distance, the Tri-Rotor can be used against electronic devices, via its EMP charge upgrade. The Tri-Rotor can only use one kind of explosive at a time, either this or the C4 charge that kills the enemy.
Appearances
Trivia
The Tri-Rotor is named so because it has three propellers
Community content is available under
CC-BY-SA
unless otherwise noted.