For the seventh-generation console version, see Tom Clancy's Splinter Cell: Double Agent (Version 1).
Tom Clancy's Splinter Cell: Double Agent
Developer(s)
Ubisoft Annecy
Ubisoft Milan
Ubisoft Montreal
Publisher(s)
Ubisoft
Designer(s)
Chris Smith
David Laquerre
Thomas Simon
Composer(s)
Michael McCann and Chris Velasco
Engine
Modified Unreal Engine 2.5
Platform(s)
Xbox
PlayStation 2
Gamecube
Wii
Release date
October 24, 2006

Xbox, Playstation 2
NA: October 24, 2006
AUS: October 26, 2006
EU: October 27, 2006
JP: April 12, 2007

GameCube
NA: October 26, 2006
EU: October 26, 2006

Wii
NA: November 28, 2006
AUS: December 7, 2006
EU: December 22, 2006

Timeline
January-December 2008
Previous
Splinter Cell: Double Agent
(Version 1)
Next
Splinter Cell: Checkmate
Splinter Cell: Conviction
Tom Clancy's Splinter Cell: Double Agent is the fourth installment in the Tom Clancy's Splinter Cell series of video games developed and published by Ubisoft. The series, endorsed by American author Tom Clancy, follows Third Echelon Splinter Cell Sam Fisher, who is assigned to go undercover as a convicted felon in order to infiltrate a domestic terror organization called John Brown's Army (JBA).
Double Agent was released for the Xbox, PlayStation 2 and GameCube on October 26, 2006. The Windows version was released on November 17 and the Wii version on November 28. A PlayStation 3 version was released on March 30, 2007.
Originally the game was set for a March 2006 release (coinciding with the release of Essentials), but Ubisoft moved the release date to September 2006 in order to have more development time. Ubisoft then released their fiscal quarter results for Q1 2006 and announced that Splinter Cell: Double Agent would be put back at least one month in order to boost Q3 2006 income.
The game begins on January 4, 2008 as Sam and CIA agent Hisham Hamza are in Iceland to investigate notable arms trafficker Raheem Kadir's base of operations and prove or disprove the presence of a new type of weapon bought from the Russians. However, their mission is aborted and they are ordered to extract, with Lambert activating a Splinter Cell co-op double team to destroy the plant. Sam is personally met by Lambert aboard the Osprey, who has come to deliver bad news. Sarah Fisher, Sam's only daughter, has been killed by a drunk driver. Overcome with depression, Sam is unable to concentrate on his work and is pulled out of active service.
Lambert offers him the rank of a NOC (nonofficial cover operative), hoping that it will help him refocus. NOCs are operatives with backgrounds from both the CIA and NSA, trained to infiltrate organizations for HUMINT purposes. The government denies any involvement in their activities. The NSA stages a string of armed robberies through Phoenix, Arizona and Denver, Colorado to set up Fisher's cover as a career criminal. Fisher is to infiltrate a domestic terror organization known as John Brown's Army (JBA). He is sent to Ellsworth Federal Penitentiary in Kansas where he is placed in the same cell block as Jamie Washington, a JBA member. With indirect assistance from a Splinter Cell co-op double team, Fisher helps Washington escape from Ellsworth and is welcomed into the JBA.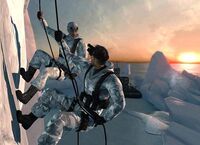 At their compound in New Orleans, Sam finds an e-mail written by JBA member Cole Yeagher. If he chooses to send this information to the NSA, they will extract Yeagher for interrogation; if he chooses to send it to the JBA, Emile kills him.
Sam is then sent to hijack a train from Grand Central Station in New York City, carrying a large sum of money, gold and jewelry. Lambert goes undercover as an arms dealer and assumes the name "Vernon Wilkes, Jr." so that he can provide Sam with access to NSA equipment.
After the JBA constructs a bomb using Red Mercury, Emile sends Fisher to Cozumel to test it by blowing up a cruise ship. If the player chooses to sabotage the bomb detonation, Sam and Enrica are severely beaten. Unlike Version 1, this decision does not affect the ending of the game.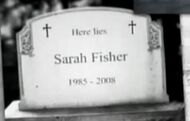 Sam is then sent on a mission to take over a Russian oil tanker in the Sea of Okhotsk. Two computers on the tanker have an e-mail to Emile from an anonymous sender who intends to blow Lambert's cover as an arms dealer.
Emile then goes to a meeting in Kinshasa with Alejandro Takfir and Massoud Ibn Yussif, allies of the JBA, to buy more Red Mercury. He orders Fisher to kill Hisham. If the player lets him go, he will receive an adrenaline syringe, which does not make an appearance for the rest of the game. Fisher uncovers information that sets up a mission for a Splinter Cell co-op double team to sabotage a chemical bunker owned by Takfir. An e-mail on Massoud's computer reveals that there is a mole inside the NSA.
When Fisher returns to the headquarters, he discovers that Lambert has been taken hostage and the terrorists are about to send off the Red Mercury. Sam has to choose whether to place information on the JBA server backing up Lambert's cover or plant information that proves he is with the NSA. If the player does the latter, at the end of the mission, a cutscene shows Carson Moss shooting Lambert and then Sam disposing his body in a dumpster. Director Williams seems strangely indifferent to the death of Lambert, if the player chooses that route. He can also choose to disable two of the Red Mercury bombs.
Unlike the other version, regardless of whether you save Lambert or not, the mission starts with the JBA discovering that Sam is a spy, with Williams authorizing the Fifth Freedom. Simultaneously, the Splinter Cell double team focuses on disarming multiple Red Mercury bombs in the Tanker headed for Los Angeles. Enrica, unable to kill Fisher, helps him by setting off the sprinklers in one room. After Sam kills Emile, Moss and Washington and disables the last bomb, Enrica comes looking for him, and is shot by a Splinter Cell agent. As a result, Sam kills the agent and removes his subdermal for his cochlear implant. He then accuses Williams of murdering Enrica and vows revenge.
If Sam disarms the bombs in Nashville and Los Angeles, the end newscast will say that a potential terrorist attack has been stopped. If only one of the bombs is disarmed, the newscast will report on a bomb, whichever one was not disarmed, exploding and killing many. If neither of the bombs are disarmed, the newscast will say that two bombs have gone off in Nashville and Los Angeles, killing many people. If Nashville is destroyed, it is also noted that the President has been killed due to a visit. He is succeeded by his Vice President.
Bonus Maps Edit
Bunker - Location Unknown, Normandy, Old German Bunker | 15th September 2007
Ship - Washington D.C., USA | 15th October 2007
Fisher is given objectives from two separate parties, the JBA and NSA, sometimes forcing the player to choose between them in order to progress. Due to the fact he is "working" for two different organizations, Sam is faced with several choices in the game that affect his trust with the JBA and the NSA, represented by the "trust meter". Trust on either side affects Sam's weapon arsenal: completing NSA objectives will unlock a high-tech arsenal, while completing JBA objectives will unlock a lower-tech lethal arsenal. A non-linear storyline that changes based on the objectives the player completes (those of the JBA or NSA). Multiple endings are introduced. The lock-picking mini-game returns and a new bomb defusing game is introduced.
The game's plot is told as a huge "flashback" of Sam reiterating to NSA Director Williams what happened. Version 1 takes place in the present. An additional single-player mission with alternate ending, a new Spies vs. Spies online mode, an extended co-op mode and LAN. The story has also been altered almost completely in these versions of the game; one change of note is inclusion of a HUD very similar to Chaos Theory's. The player receives the SC-303 Compact Launcher in a few missions, which shoots only non-lethal rounds. The PlayStation 2 version includes two exclusive "flashback" missions: one mission has Sam rescuing his daughter from a cargo ship (the level design is borrowed from the Yugoslavia mission in Splinter Cell: Essentials), and the other has Sam escaping captivity from a German bunker (level design borrowed from the SEALs mission in Essentials). The PlayStation 2 version featuring exclusive levels is not new to the series.
As part of the JBA, Sam must complete objectives set by them to gain their trust as well as complete objectives from the NSA. The decisions he has to make will become increasingly difficult as he progresses through the game. Earlier decisions, such as deciding whether or not to free all of the prisoners during the prison breakout, will just affect his score, but as the game progresses, Sam is faced with serious choices that could kill thousands if made wrong, but may blow his cover if he does not do it.
Despite this, Sam must make the JBA trust him, in order to gain access to the restricted areas of their base and complete NSA objectives. If he is seen in restricted areas before he is allowed to go there, it will dramatically affect his trust with the JBA. Similarly, if he is caught using an NSA gadget or picking a lock in JBA HQ, his cover will be blown.
He is also watched by the JBA in most of his missions, if he is seen completing NSA objectives or is thought to be doing something out of the ordinary, his trust will go down. Killing people apart from those ordered to be taken out will affect his NSA trust in the same way.
Multiplayer
Edit
The Xbox and PlayStation 2 versions have a Spy vs. Spy mode, with players able to play as Third Echelon or the
Upsilon Force
spies. There are six Game Modes in these Spy vs. Spy matches: Team Hack, Deathmatch, Team Deathmatch, Key Run, Sam Vs. All, and Countdown. Team Hack has players trying to retrieve data by hacking into enemies computers and securing their own computers, similar to "Capture The Flag." Deathmatch and Team Deathmatches pit players against each other. Key Run is similar to Team Hack, except retrieving a Key to hack into the other team's computer is the main item to capture. Sam Vs. All is reminiscent to Metal Gear Solid 3: Subsistence's Sneaking Mission game mode, in which one player who is Sam Fisher must play as a lone wolf and hack into computers defended by an Upsilon spy team. However, the key difference is that Fisher lacks the equipment from the single-player mode, and is nearly identical to normal spies. Countdown is similar to Deathmatch, except players must outlast each other by getting more kills to extend their time limit.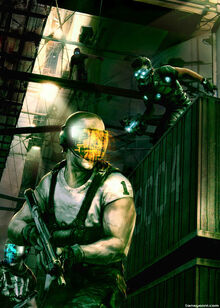 Like Chaos Theory, cooperative missions tie-in directly to the storyline. They have the spies provide covert support for Fisher, either helping him with his objectives or acting on intelligence he has gathered. The first mission takes place in Iceland shortly after Sam Fisher is pulled out. The spies are sent in to complete Fisher's mission by blowing up the plant. Next, the spies go to Ellsworth Prison to start a riot, providing a distraction to allow Fisher and Jamie Washington to escape. Thanks to intelligence provided by Fisher, the spies are able to sabotage the chemical bunker in Kinshasa owned by Tafkir and Massoud, as well as getting valuable intel. The last mission happens in conjunction with Fisher taking down the JBA. The Splinter Cell duo, under the command of Assistant Director Williams, sabotages multiple Red Mercury bombs on a cargo ship heading for Los Angeles.
Reception
Edit
The UK OXM also gave the PlayStation 2 version an 8 out of 10.
IGN gave the Xbox version of Double Agent an "Outstanding" 9.0 out of 10, the PlayStation 2 version an 8.7, and the Wii version a 5.5 for poor graphics and motion sensing. TeamXbox.com rated it 9.1 out of 10, USA Today 9 out of 10, GameTrailers.com 8.9 out of 10, and 1Up.com a "Dynamite" 8 out of 10.
Nintendo Power gave the GCN version 7.2 out of 10 and the Wii version 6.0 out of 10.
GameSpot gave the Xbox version a "Great" 8.5, the PlayStation 2 version a "Great" 8.2, the Wii version a "Fair" 6.2, and the Gamecube version a "Fair" 6.7. The major difference between them is the level of online multiplayer, graphics and the controls which differentiates one from another.
Received IGN's award for Best Xbox Action Game of 2006
Nominated by the Academy of Interactive Arts & Sciences for "Best Action/Adventure Game", "Best Male Performance", "Best Sound Design" and "Best Original Music" of 2006
Won TeamXbox's "Best Action Game" and "Game of the Year" for the Xbox version.
Won Gamespy's "Game of the Year" and "Best Action Game" for the Xbox version.
Won Official Xbox Magazine's Action-Adventure Game of the Year - February 2007
Won Official Xbox Magazine's Co-op Game of the Year - February 2007
Soundtrack
Edit
The Soundtrack was composed and produced by Michael McCann (under the alias Behavior). McCann handled all music except the cinematics, which were composed by Velasco and Dikiciyan. Currently, anyone can download the complete score of both versions of the game from Michael McCann's website [1]
According to released material from Ubisoft, the two "Double Agent" maps ("United States Penitentiary" and "Delta Atlantic Warehouse") from Splinter Cell: Essentials are part of the Splinter Cell: Double Agent series.[2] Like the other two versions of Double Agent, the maps are original exclusive levels (thus inconsistent with the other two games in series).
The Double Agent missions in Essentials follow closer to the events in this version of Double Agent, than Ubisoft Shanghai's version. In both versions Sarah Fisher is killed in January 2008. Later, Sam escapes from a prison in Kansas with Jamie Washington on November 16, 2008 after knocking out or killing another inmate. Lambert is shot and dies in the JBA Headquarters in New Orleans in both versions. The JBA Headquarters level in Essentials takes place just after the second JBA HQ mission in Ubisoft Montreal's Double Agent (parallel to Lambert's death cinematic). The cinematic shows Sam Fisher disposing of Lambert's body in a dumpster after Carson Moss shot him. The Double Agent portions of Essentials and Version 2 of Double Agent take place at approximately the same time, leading into December 2008.
In this version there is a hidden Easter Egg - rescuing three trapped baby seals in the co-op campaign.[3]
This version is considered non-canon to the main Splinter Cell games and the next game, Convicton, does not take place after it. It takes place after the canon version 1.
The ending features a news report by Morris Odell that takes cutscenes from Tom Clancy's Splinter Cell: Chaos Theory as well as from Rainbow Six 3, and Rainbow Six Lockdown, respectively from the Tom Clancy's Rainbow Six series.
References
Edit
Community content is available under
CC-BY-SA
unless otherwise noted.