Third Echelon Training Facility
Established
Unknown (post 2004)
Location
Fort Meade, Maryland
Type
Training Facility
Occupants
Third Echelon
In Use
Unknown (at least 2007)
Appearance
The Third Echelon Training Facility is a facility located on the grounds of Fort Meade, Maryland[1]. It's used to train potential recruits as Third Echelon's elite group of covert soldiers known as Splinter Cells.
Background
Edit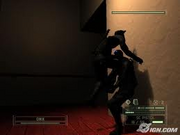 While the facility is used to train current and potential Splinter Cell agents, it is known that it is also used to train pairs of recruits for elite tactical team-based missions. The recruits, known as "Splinter Cells-in-training", learn to work together to accomplish missions that could not be completed by an individual Splinter Cell agent. The recruits learn to trust each other to complete their objectives; when the only things standing between them are their wits and their partner. After that, the recruits becomes "official-unofficial" Splinter Cells.
Training new Splinter Cells can take between 6[2] and 18 months.[3]
Located somewhere on the grounds of Fort Meade, located mostly above ground, the facility consists of outside training course and a central training structure. The structure is made up of cheap cinderblock, plywood and plasterboard, with barbed wire at the top of walls. It resembles training courses used by some military/police forces to teach field skills.
Mission Objectives (co-op)
Edit
As Splinter Cell in training, you must learn to trust each other to complete your objectives. The only things standing between you and your failure are your partner. Learn to work together to accomplish missions that could not be completed by an individual Agent.
In the introduction to Pandora Tomorrow Sam, while drying his head with a towel and throwing it over his shoulder, is shown in Third Echelon's command center, passing through a hatch from a corridor into another after returning from "simulation". It is unclear if he was using a training facility within the center, was returning from Third Echelon's training facility at Fort Meade, or simply running one of the computerized hypno-simulation programs[4] in the NSA headquarters itself.
Chaos Theory states that the location is "Third Echelon Training Facility, Fort Meade, Maryland, USA". It doesn't state that it within the Third Echelon Headquarters, on the contrary the location of the headquarters in Chaos Theory is stated specifically to be "National Security Agency, Fort Meade, Maryland, USA" in the introduction cinematic (showing an outside shot of the NSA building). Splinter Cell: Endgame states that this location is an underground sector of the NSA headquarters.
It is unclear where Archer trained exactly, however since he was an information analyst at the nearby NSA Headquarters at Fort Meade, it is likely he began training at the Training Facility when Anna Grímsdóttir recruited him into Third Echelon.
For some reasons, JBA has a similar training facility like this one.
See Also
Edit
References
Edit
Community content is available under
CC-BY-SA
unless otherwise noted.