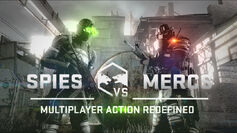 Spies vs Mercs (sometimes referred to Spies vs Mercenaries, or shorted SvM) is a multiplayer mode appearing in the Tom Clancy's Splinter Cell series. Despite receiving numerous changes and adjustments in the Splinter Cell series, the fundamental basics remain the same: two sides (Spies and Mercenaries) face each other in objective-based multiplayer matches where players must best their enemies to ultimately win the round.
The Spies vs Mercs multiplayer mode is seen by many to be the most popular component of the Splinter Cell series, as well as being a more unique multiplayer component compared to other multiplayer modes found in other video game titles.
Overview
[
]
Spies vs Mercs is a multiplayer mode first appearing in the second Splinter Cell title, Splinter Cell: Pandora Tomorrow. Despite having different objectives across different Splinter Cell games, the overall theme of the games is a fight between stealth-focused character (Spies) and action-based character (Mercenaries) teams battling for opposing objectives. Spies vs Mercs may blend with the campaign story in the respective game, or operate on a non-story based background. In each game, the Spies and the Mercenaries will belong to respective organizations, or may not belong to organizations and will simply be named 'Spies' or 'Mercenaries' (as is the case in Splinter Cell: Blacklist).
Appearances
[
]
Gallery
[
]
Trivia
[
]
Spies vs Mercs appears in every main Splinter Cell video game title except for the first Splinter Cell and Splinter Cell: Conviction.
The Spies vs Mercs theme was used in the Penny Arcade comic, Tom Clancy's Splinter Cell: Pandora Tomorrow (comic) as it followed two opposing sides during the Indonesian Crisis in 2006.
In the Spies vs Mercs promotional image for Splinter Cell: Blacklist, the tagline "Multiplayer Action Redefined" is displayed below the Spies vs Mercs text, a reference to the first game's "Stealth Action Redefined" tagline.