"The SPAS-12 offers silenced semi-automatic fire power, covering medium to far ranges."
― In-game description
The SPAS-12 is a combat shotgun manufactured by Franchi, an Italian firearms company. It has a dual-mode function enabling either pump-action or semi-automatic operations.
Overview
The SPAS-12 ("SPAS" being Special Purpose Automatic Shotgun) is a military combat shotgun that fires 12 gauge 2 3/4-inch shells. It is complete with a dual-mode function that can be enabled with either pump-action or semi-automatic operation (it's primary design purpose). It has been manufactured by the Italian firearms company Franchi from 1979 to 2009. The SPAS-12 fires 12 gauge 2 and 3/4-inch shells.
The SPAS-12 appears in Tom Clancy's Splinter Cell: Conviction with only it's semi-automatic feature. It comes with a built-in suppressor even though the weapon sounds fairly loud in-game. The SPAS-12 offers close-quarters coverage, as well as medium or far range coverage.
| Upgrade | P.E.C. Points |
| --- | --- |
| Gun Stock | 500 points |
| Match Grade Ammo | 250 points |
| 2X Scope | 300 points |
The SPAS-12 is used by Georgian special forces commandos, Nikoladze's henchmen and CIA Security officers in the original Splinter Cell. 
The SPAS-12 is used by one of the prison guards in Double Agent (next gen version). 
A SPAS-12 is seen in the armory of JBA HQ, but no one uses it in the entire game. 
The SPAS-12 in Conviction can only be obtained by inputting codes from the Limited Collector's Edition, Purchasing the PRIMA Official digital walkthrough/guide, or from pre-ordering at GameStop. 
Realistically, a shotgun would only have a scope if it was shooting slugs and not buckshot, as it will not be practical at range.
The SPAS-12 in Conviction actually does very little damage due to the fact that it takes 2-3 shots to kill at close range and 4-5 at long range.
The SPAS-12 in Conviction does not have pump-action mode, this makes sense as its recommended by the manufacturer to fire semi-auto if using military-grade shotgun shells.
Usually one pellet will go completely straight, making it possible to get headshots at distance with the scope.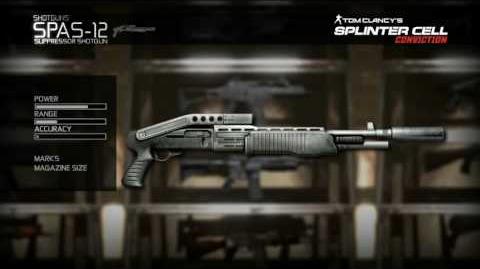 Community content is available under
CC-BY-SA
unless otherwise noted.