Lucius Galliard was the owner of White Box Industries and the PMC Black Arrow, who was running interference for Third Echelon Director Tom Reed. In a Java mobile game from Gameloft Lucius is an old white scientist, Sam find him to talk about weapon but Tom Reed shot him during a conversation.
Businessman Lucius Galliard has a successful, diversified portfolio. He also has powerful friends – friends who have made him the point man in an explosive operation that threatens to shake the foundations of Washington. With private military company Black Arrow following his orders, Galliard is a man to be reckoned with.
Biography
Edit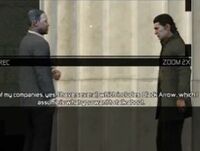 Galliard had a meeting with Third Echelon Director Tom Reed at the Lincoln Memorial in Washington, D.C. where they discussed their assignment, Megiddo and Black Arrow. Ex-Splinter Cell agent Sam Fisher, acting on orders from President Patricia Caldwell and Anna Grímsdóttir, was able to eavesdrop and record the conversation inside of a nearby sound booth. After the meeting, Reed leaves and Grímsdóttir calls Galliard so he'll stay inside of the Memorial so Sam can move. Fisher grabs Galliard from behind and interrogates him for information: Galliard reveals that Reed intends to detonate three EMP devices in Washington, D.C. and also reveals that Megiddo has large influence in Washington, D.C., Moscow and Beijing. After he reveals this, however, he is killed by a shooter sent to assassinate Galliard. The shooter ran and Fisher pursued him, but the shooter was eventually killed in a car bomb explosion. Afterwards, a radio news report revealed that Galliard's death was covered up as the result of a heart attack.
Lucius Galliard's in-game character model was actually the character model for Sam Fisher's contact during the early stages of the 2007 build of Tom Clancy's Splinter Cell: Conviction.[1]
Lucius Galliard appears to be an important representative of Megiddo because while talking to Reed, he states that Megiddo would replace the Vice President as soon as they would find a better tool and also subtly threatens Reed that he should keep this in mind too. While being interrogated by Sam, he expects Megiddo to come to his aid.
The scientists in the White Box lab are presumably working for him.
Although his name is spelled "Lucius Galliard" in the subtitles, in the credits his name is spelled "Lucias Gaillard". This is most likely a typographical error.
He is voiced by Tyrone Benskin, who also provided additional voices for the first Splinter Cell.
His weapon of choice is the MK.23, however, he won't pull it out until he sees Sam in Lincoln Memorial. Along with Grim, Galliard is the only NPC known to carry one in Splinter Cell: Conviction.
Lucius Galliard's assassination was covered up as a heart attack according to radio reports in the Lincoln Monument and Third Echelon HQ levels.
Galliard mentions that he owns five other companies besides Black Arrow and White Box. They are likely also focused on logistics, security, and technology. These services effectively make Galliard's investment profile vertically integrated and well suited for managing a high-level government conspiracy.
References
Edit
Community content is available under
CC-BY-SA
unless otherwise noted.