Galliard's killer
Biographical information
Died
2011
Cause of death
Car explosion by Megiddo.
Citizenship
American
Physical description
Hair
Shaved
Career information
Affiliations
Megiddo
Tom Clancy's Splinter Cell series information
Appearances
Splinter Cell: Conviction
Galliard's killer
is an assassin that appears in
Tom Clancy's Splinter Cell: Conviction
. He infiltrated the Lincoln Memorial where he shot and killed
Lucius Galliard
in an attempt to suppress the
Third Echelon Conspiracy
plot. In an attempt to escape ex-
Splinter Cell
Sam Fisher
, he was killed in a vehicle explosion caused by a bomb planted on his getaway car.
Biography
Edit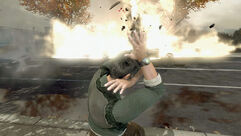 At the end of Sam Fisher's interrogation of Lucius Galliard at the Lincoln Memorial, Galliard is shot with a USP.45 from across the room by a man dressed as a police officer. Sam chases him throughout the Lincoln Memorial and into the streets of Washington D.C. Since he is dressed as a police officer, Galliard's killer gets police backup, forcing Sam to deal with them before continuing the chase. The killer also kills two civilians during the chase and eventually runs through a cafe and towards a car. He attempts to escape in the car, trying to start it but as Sam comes closer, the car explodes and kills him, leaving only charred remains.
The killer had a fade and wore sunglasses. He wore a white polo under a bulletproof vest that had the word "POLICE" in white letters on the back of it. He also wore fingerless gloves, dark blue cargo pants and boots.
The killer was dressed to look like a police officer, explaining how he was able to infiltrate the Lincoln Memorial. This also gives him an slight edge when he attempted to flee from Sam, telling the other officers that he's a 'cop killer.'
It is impossible for the player to actually capture him during the segment, no matter how quickly the player moves through the environment.
Community content is available under
CC-BY-SA
unless otherwise noted.