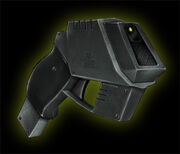 The
Camera Jammer
(also known as a
HERF Generator
, or
Directional EMP
) is a hand-held device that emits microwave pulses that disprupt the characteristic signals used in the microcircuitry of serveillance cameras.
The Camera Jammer is a handheld device with a trigger built in, allowing the user to temporarily disrupt surveillance cameras. It operates off of a capacitor that must be allowed to recharge from its battery after a short time.
The Camera Jammer saw use by Third Echelon's Splinter Cell Program, specifically used by one of their agents, Sam Fisher, during the Indonesian Crisis in 2006. The device was then replaced with the Optically Channeled Potentiator (OCP) at some time between 2006 and 2007, a device that was attached to Splinter Cell operative's standard issue SC Pistol. Despite functioning similarly, both devices are vastly different - while the Camera Jammer requires the user to always point the Jammer at the camera, the OCP only requires the user to point at a camera (or any other electronic-based device) to disable it temporarily without the need to point at the object.
Appearances
Edit
In Splinter Cell: Essentials, the OCP that SC Pistol used has similar effect of the Camera Jammer, but it can also be used to jam turrets, the effect sound is reused from the Camera Jammer in Pandora Tomorrow.
The Camera Jammer is best used against armored Security Cameras that are immune to bullets.
Community content is available under
CC-BY-SA
unless otherwise noted.